Recent Viewed
You have no recently viewed item.
VIVOTEK V-Series Desktop NVR – H.265, 16CH, 1 HDMI+1 VGA, 1080P
Product Description
VIVOTEK V-Series Desktop NVR – H.265, 16CH, 1 HDMI+1 VGA, 1080P @ 120 fps, 4K display, 4/1 alarm in/out, 2 HDD, RAID 0/1, 1 LAN(Giga), 16 PoE, v2 version.
Key Features
H.265/H.264 Compression Technology
4K Display for Clear and Detailed Monitoring
Live and Playback Fisheye Dewarp
Core+ 3.0: Trend Micro IoT Security & Cybersecurity Management, Smart Search II, Smart VCA Event Search, VCA Counting Solution
VIVOTEK's Smart Stream II to Optimize Bandwidth Efficiency
802.3at/af Compliant PoE port x 16
RAID 0, 1 Supported to Prevent from Recording Data Loss
Multiple Browsers Supported: IE, Chrome and Firefox on both Windows & macOS
Supports VCA Counting Solution
Overview
VIVOTEK's ND9424P-v2 is a new generation H.265 Linux-based standalone NVR that supports up to 4K IP camera video decoding and local 4K video display. With advanced H.265 compression technology, users are able to experience Full HD quality video while expending less HDD capacity than H.264.The NVR features embedded 16x 802.3 at/af PoE ports to provide users easy and convenient IP camera installation, and also supports remote and mobile access via VIVOCloud and iViewer apps for both iOS and Android devices.
The VIVOCloud app provides instant push notification and direct video playback functions when triggered by an alarm notification and provides users a flexible and intelligent NVR for seamless use in small to medium sized video surveillance applications.
Users of the NVR will also benefit from VIVOTEK's cooperation with world-renowned cybersecurity company, Trend Micro. Through network cameras armed with Trend Micro's anti-intrusion software, VIVOTEK unites high security and robust network surveillance to secure lives and protect data across diverse applications.
The New Generation NVR Firmware

VIVOTEK Core+ 3.0 is the new generation ND series network video recorder firmware, embedded with VIVOTEK's latest technology including features such as cybersecurity management, Smart VCA Event Search, Smart Search II functions, and counting solutions. Upgrade your network video recorder's ability to Core+ 3.0 for a smarter, safer and smoother user experience.
Cybersecurity Management
In alliance with world-renowned cybersecurity company Trend Micro, Core+ 3.0 NVRs support Trend Micro IoT Security, empowering the NVRs to automatically detect and prevent credential-based attacks and to block suspicious events. VIVOTEK network cameras that support Trend Micro IoT Security can also connect in series with Core+ 3.0 NVRs, enabling the NVRs to receive instant notifications of the security events from the cameras and to understand the type and status of cyber-attacks, as well as to acquire attack information from cameras. In addition, VAST 2 (VMS) receives information on security protection attacks from Core+ 3.0 NVRs and VIVOTEK cameras.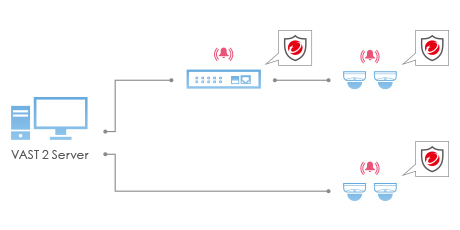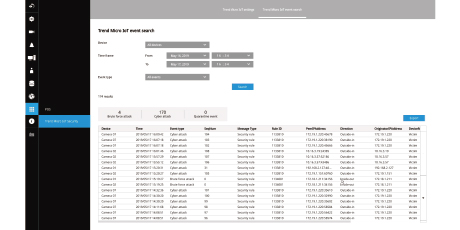 Smart VCA Event Search
The Core+ 3.0 NVRs support alarm management and event search of VIVOTEK's deep-learning video analytics technology, Smart VCA and Smart 360 VCA. VCA rules and information such as people-tracking frames and motion-detection frames can be shown on live or playback video display. The user can search by single or multiple event types, playback triggered events and then export these search results to video clips.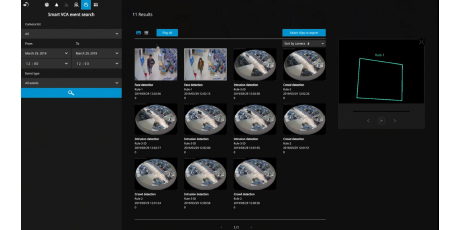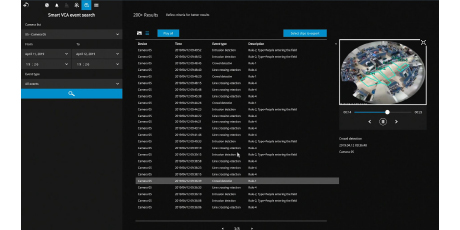 Smart Search II
Cameras supporting VIVOTEK Smart Motion Detection technology, which detects people activities, can also connect with Core+ 3.0 NVRs. Based on the camera metadata recorded on the hard drive of the NVRs, the NVRs can then deploy the advanced Smart Search II technology, activate the people detection function, and proceed to search the corresponding playback video. This allows for faster sorting through large amounts of evidence to find precisely what is needed.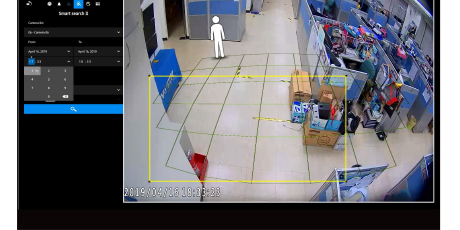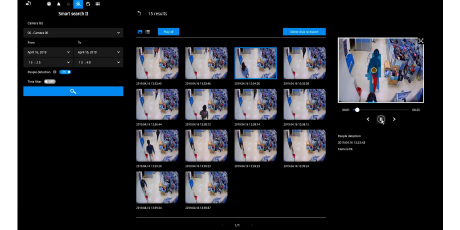 Counting Solution
The Core+ 3.0 NVRs support VIVOTEK's 3D people counting cameras and cloud service software – VIVOCloud. Counting rules can be shown on the NVR's video display from counting cameras. Besides, all of the counting data can be stored automatically to the NVR's hard drive as well as be acquired by VIVOCloud. Users can also build customized counting reports through the VIVOCloud interface. This enables tracking of in-store guest flow and benchmarking of campaign performance between different stores or across different time frames to make business more efficient.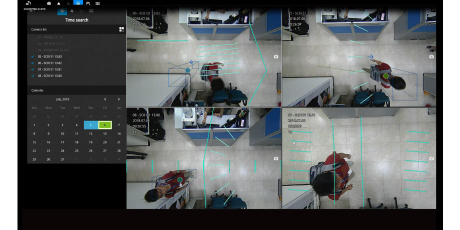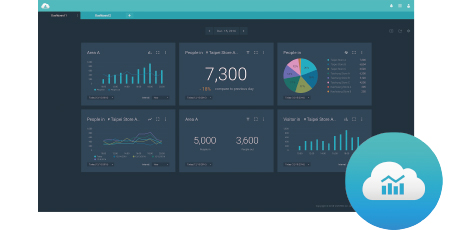 Highlight Features
Better Video Quality with Lower Bandwidth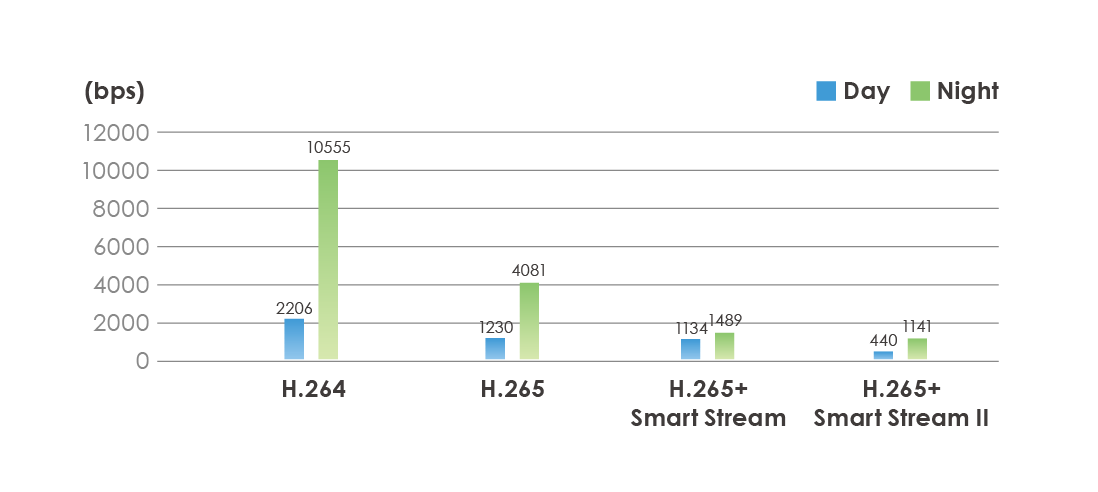 With H.265 standard and VIVOTEK's Smart Stream technology, VIVOTEK NVR is not only able to provide the high-quality video, also save the usage of network bandwidth and recording capacity more than regular H.264 standard.
4K IP Camera Video Input and 4K Local Video Output

Supporting 4K IP camera video input and 4K local video output, VIVOTEK's NVR can provide users extra high definition video resolution ensuring they will never miss a single detail in both video monitoring and recording.
Trend Micro IoT Security & Cybersecurity Management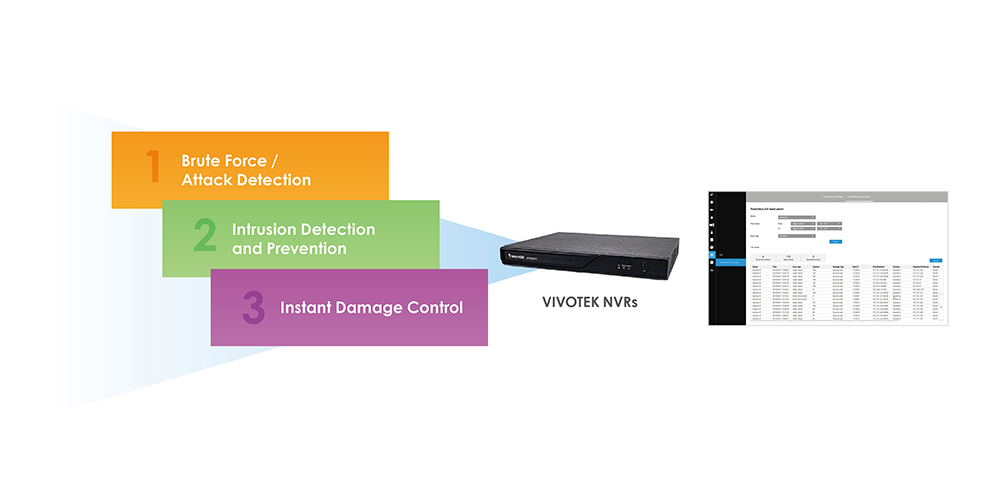 In collaboration with Trend Micro, VIVOTEK's video recorder is embedded with anti-intrusion software with multi-layer protection, including brute force attack detection, intrusion detection & prevention, and instant damage control. Furthermore, VIVOTEK's video recorder provides cybersecurity management solution. Once event notifications in video recorders have been set up, it will be immediately alerted when cyber attacks occur. Allowing users to receive notifications either automatically or manually, and real-time Cyber Risk Dashboard (VAST 2) to easily identify common types of cyber attacks.
Fisheye Dewarp

VIVOTEK's NVR offers both LiveView and Playback modes for one fisheye network camera simultaneously. They also provide multiple fisheye de-warp display modes, including 1O, 1P, 1R, 1O3R, 1O8R, allowing users to monitor any angle, or to enjoy precise detailed images for a total surveillance experience.
VIVOCloud App & Portal for 24/7 Viewing

The free VIVOCloud app makes surveillance lightweight and portable, ensuring efficient operation. The latest P2P technology makes remote access even more convenient, by simply scanning the QR-code and installing the app, users can view live streams and play recorded clips with the intuitive interface anytime, anywhere. Armed with the Push Notification function, users will directly get an alert message on their Android/iOS mobile device and directly playback the video to check for any suspicious activity.
Chrome & Firefox Now Supported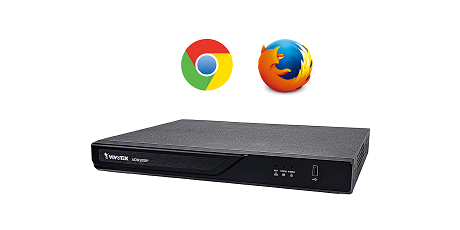 Support for plug-in free web browsers enables users with direct web viewing/setting on IE, and now also on Chrome and Firefox web browsers, for both Windows and macOS.
Trend Micro IoT Security for Cybersecurity

Technical Specifications
Device
Model: ND9424P-v2
OS: Embelied Linux
CPU: ARM Processor
Flash: 256 MB
RAM: 1GB
Watchdog: Hardware + Software
Power Restoration: System Restart Automatically after Power Recovery
Local Display
LiveView Display: 16 ChannelsMulti-Layout Display: 1×1, 3V, 2×2, 3×3, 1P+3, 1M+5, 1P+6, 1M+12, 4×4
Video Output: HDMI x1, VGA x1
Display Resolution: 3840×2160, 1920×1080, 1280×720
Camera Position: Change the viewcell position on the Live View screens
Stream Application: ConstantAuto Adaptive Stream
Monitor Enhancement: OSD display (NVR), OSD display (camera), camera information, remote I/O control, event notification, aspect ratio
Fisheye Dewarp: 1O, 1P, 1R, 1O3R, 1O8R
PTZ Operation: Direction Control, Home, Iris, Preset, Patrol (Group), PiP Control
Video
Video Format: H.265, H.264, MJPEG
Graphic Decoder: Hardware decoding
Decoding Resolution: Up to 3840×2160
Decoding Capability: 720×480 @ 480 fps
Audio
Audio Format: G.711, G.726
Audio In/Out:

3.5 Phone jack audio output x1
3.5 Phone jack audio input (reserved) x1
Record
Recording Time (sec.):

Pre-Record: 5 (Max. 10)
Post-Record: 20 (Max. 300)

Recording Stream: Single
Recording Throughput: 128 Mbps
Recording Mode: Continuous, Schedule, Manual, Event, Activity Adaptive Streaming
Recording Setting: Recycle (unit: Day)
Watermark: Supported
Storage & Backup
Hli Devices: Internal x2 (3.5″)*Hli is purchased by separately.
Hli Max. Capacity: *Please refer to the Hli supported list on the VIVOTEK website.
RAID: RAID 0, 1 (single volume up to 16TB)
Disk Management:

Create, Format and Remove Disk
Hli S.M.A.R.T.

External Storage: USB Storage (USB 3.0)
Video Clip Export: USB Dongle (FAT Format)
Schedule Backup: FTP
Playback
Playback Display: 4 Channels
Multi-Layout Display: 1×1, 2×2, 1P+3, 1V+3
Playback Control: Regular (play, pause, stop), rewind, next/previous frame, speed control, calendar, event, timeline, timeline scale, thumbnail (storyboard)
Video Search: By calendar, date/time, and alarm
Thumbnail Explorer (Storyboard): Listing the thumbnail of recorded video (Max. 2-CH)
Snapshot: JPEG
Video Clip Export: EXE
Network
Ethernet: 10/100/1000Mbps Ethernet (RJ-45) x1
Video Throughput for Remote Client: 24 Mbps
PoE: 802.3at/af compliant PoE ports x 16 (Total Max. 200 W)* DO NOT suggest connecting any non-PD device with this NVR PoE port in order to avoid potential risk.
Protocols: IPv4, IPv6, TCP/IP, HTTP, HTTPS, UPnP, RTSP/RTP/RTCP, SMTP, FTP, DHCP, NTP, DNS, liNS, IP Filter
External Interface
USB:

Front: 1 (USB 2.0)
Back: 1 (USB 3.0)

Alarm In: 4
Alarm Out: 1
Audio:

3.5 Phone Jack Audio Output x1
3.5 Phone Jack Audio Input (Reserved) x1
System
POS Integration: Supported (by project request)
UPS Integration: Supported (by project request)
Camera Integration: ONVIF
Event: Motion Detection, Smart VCA Event, Cyber Attack, PIR Detection, Tampering Detection, Camera DI/DO, Camera Disconnected, Disk Failure, Disk Full, NVR DI/DO
Event Action: Video recording, email with snapshot, buzzer, PTZ, FTP, DO (camera, system), full screen, send to CMS, VIVOCloud APP Notification
User Management: User level: administrator, regular user
Log: System, recording, user, error
Date & Time: Time Zone, Manual, Automatic Sync NTP, Daylight Saving Time
Advanced Features
VCA Counting Solution: Supported
VCA Event Search: Supported
Smart Search II: Supported
Trend Micro IoT Security: Supported
Cybersecurity Management: Supported
Remote Client
Software AP: Shepherd, VAST 2
Mobile/Tablet App: iViewer (Android & iOS)
Web Browser:

Internet Explorer 10 (32 bit) or above/ Windows
Chrome v68.0.3 & Firefox v61.02 or above/ Windows & macOS

VIVOCloud: Supported
General
Power Input: 100-240V AC, 50/60Hz
Power Consumption: Max. 250 W
Dimensions: 366 (W) x 320.3 (D) x 46 (H)mm
Weight: 2.5 kg (without Hli)
Operating Temperature: 0°C ~ 40°C (32°F ~ 104°F)
Humidity: 0 ~ 95%
Safety Certifications: CE, FCC, VCCI, C-Tick, UL, CB, BSMI
Warranty: 24 months
SKU: VIVOTEK V-Series Desktop NVR – H.265, 16CH, 1 HDMI+1 VGA, 1080P @ 120 fps, 4K display, 4/1 alarm in/out, 2 HDD, RAID 0/1, 1 LAN(Giga), 16 PoE, v2 version [TXS]
| | |
| --- | --- |
| Brand | |
| HDD Capacity | |
| Mobile Compatible | |
| POE Ports/NIC Ports | |
| Video Compression | |
| Number of Channels | |
| PoE | |
| Facial Recognition | |